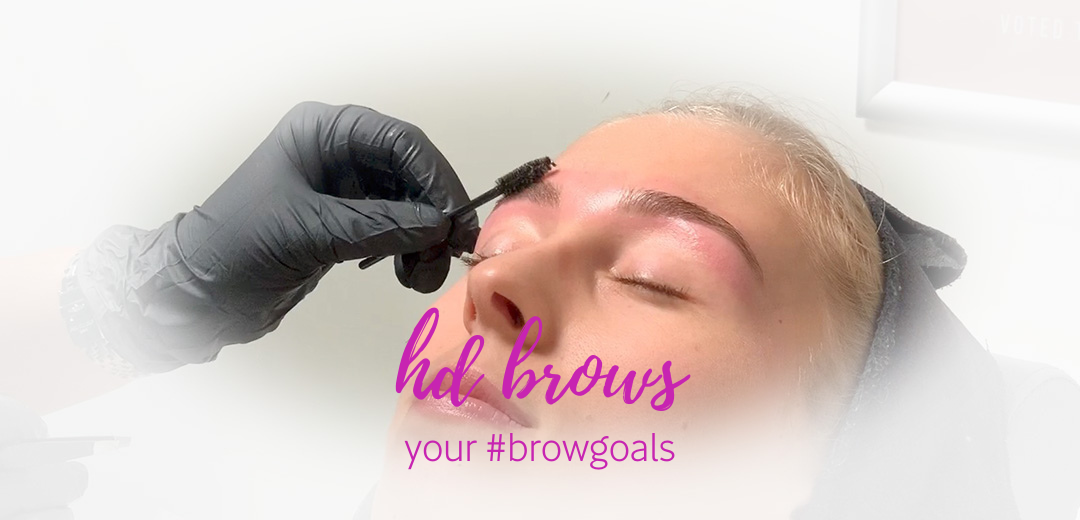 High Definition/HD Brows
the UK's No1 salon brow treatment
High Definition Brows also known as HD Brows is the UK's No.1 salon brow treatment and is offered exclusively by by trained professionals across the country. I'm proud to be associated with High Definition and offer this treatment at beautylicious because I understand the importance of giving you a totally bespoke brow.
The difference with HD Brows is that I don't believe in a one brow shape fits all. Brows are as individual as fingerprints and so each step of the HD Brows treatment is completely bespoke from the initial consultation, creating your shape, tailoring and finishing.
Please note a patch test is required at least 24 hours before your first treatment at beautylicious, or not had them done for 6 months or more.
HD Brows patch test HD Brows patch test - FREE It is critical that you carry out a HD Brows patch test at least 48 hours before the HD Brows treatment. Although it is rare – this is to ensure that you do not have an allergic reaction to the...
read more
a sneaky peak into the treatment
I had a HD brows treatment here a few weeks ago and my eyebrows still look amazing…my friends commented on how great my brows looked. Sharron is friendly and gentle with a great attention to detail, you can tell she really takes pride in a job well done. 5 Stars, I'll definitely be going back!
Freya
Had HD brows done very happy with them transformed my brows and Sharon always very friendly and helpful would recommend to friends and family.
Sara
Why do I need a patch test?
It is critical that you carry out a patch test at least 24 hours before the HD Brows treatment. Although it is rare – this is to ensure that you do not have an allergic reaction to the tint used. Ideally it is best to pop into the salon, alternatively a sample can be sent by post.
A signature will be required to state that you have carried out the patch test before the treatment. Unfortunately if you have not completed the patch test, the treatment will not be carried out and you may be charged.
Can anyone have the HD Brows treatment?
HD Brows is a fantastic treatment, but it is not suitable for everyone. If you have had an allergic reaction to the patch test, or if you had a medical contra-indication around the brow or lash area you are not able to have the treatment. If you have any contagious eye and skin infections you are not able to have the HD Brows treatment. If you have used in the last 6 weeks or are using any steroid based creams, the treatment may be able to take place but changes will need to be made to the treatment.
Please call to discuss your requirements and expectations or any conditions you have.
I have sparse brows, can I still get HD Brows?
Hope is not lost! We will work with you on a re-growth programme to achieve the perfect brow shape for you.
In the meantime, you can 'fake it to make it' with a little make up application, which we will go through during the treatment. You will get fantastic results using a range of HD Brows make-ip and lash and brow booster that can help with hair growth.
I suffer from hair loss, can I have the HD Brows treatment?
If you have little or no hair present, you can still have the HD Brows experience, but the final result will be limited to the lack of hair. The stylist can create a feint line and then provide a make-up lesson to maintain the look.
How long does HD Brows last?
The effects of the treatment usually last around 4-6, however this can vary depending on your hair growth. After your first few treatments your stylist will be able to recommend how often you should be having the treatment done.
Why is it important to have a consultation?
A personal consultation is always required to ensure that the stylist and the client discuss the HD Brows treatment. It is an opportunity for you the client to give the stylist the information they need to carry out the correct treatment. It also gives you the time to understand what is included and what can be achieved during your treatment.
It covers the 4 key questions:
What size brow you would like – full medium or slim.
What colour of brow you would like – the tone and depth of the colour.
What shape do you have in mind.
Is there a particular type of brow you have in mind – bring in pictures if you have any.
What is the difference between microblading and HD Brows?
HD Brows uses a number of techniques to create your desired brow shape and colour that lasts around 4-6 weeks and is on offer at £25. Microblading is a semi-permanent make-up technique. Pigment is implanted into the skin with a fine needle to create the look of hair strokes. Microblading typically lasts around 1-2 years and is also offered at beautylicious. Please contact beautylicious for more information.
How many treatments will I need to get the shape I would like?
This completely depends on the amount of hair you have to begin with and how your brows grow. Some clients can achieve their perfect shape after the first treatment, some will take longer, but we will discuss this in the consultation.
What's the minimum age to have HD Brows?
Due to EU law, you can't have your brows tinted under the age of 16 – don't worry, you can still have the treatment done from the age of 13 with parental consent however we would just need to skip the tinting stage.
beautylicious
36 Station Road, Horsham, West Sussex RH13 5EY  m: +447921808968  t: +441403563347
Monday:10am – 8pm
Tuesday:10am – 8pm
Wednesday:10am – 8pm
Thursday:10am – 8pm
Friday:10am – 6pm
Saturday:10am – 6pm
Sunday: Please ring to check availability of appointments.
Monday - Saturday - After 10am You can park in a marked bay all day.
Monday - Saturday - Before 10am Visitors' permit - just pop in and pick one up.
Monday - Saturday - Between 5pm and 9am You can park on single yellow lines.
Bedford Pub Car Park - Every Day Pay and Display Car Park - they are very strict!
Horsham Station Car Park - Pay and Display.