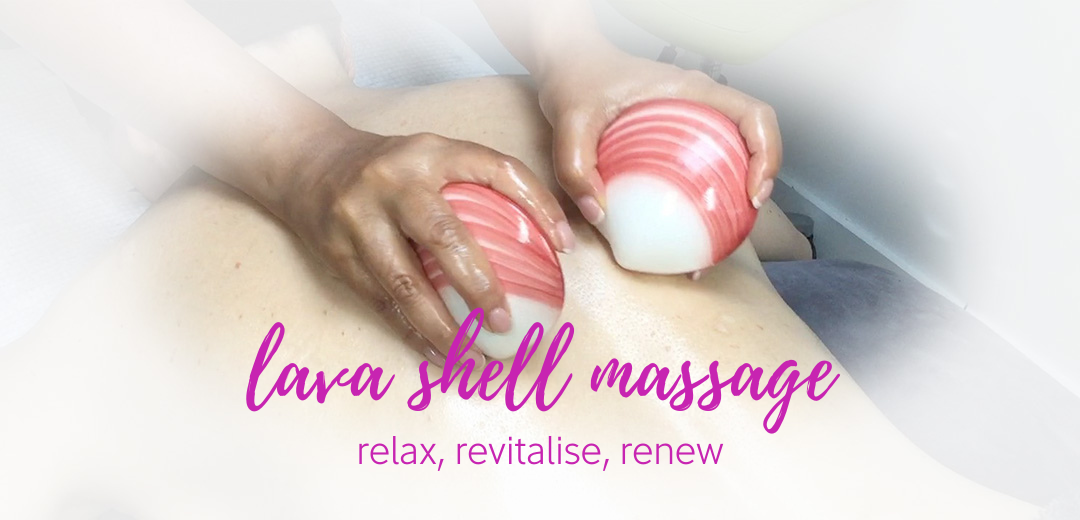 lava shell® massage
the worlds first self heating massage tool
Lava Shells® are recognised as being a 'must-have' treatment in the beauty and health industry helping you ease away muscle tension, releasing energy flow and restoring a sense of balance to your entire body and mind.
Lava Shells® are a patented, natural, biodegradable heat technology that is incorporated into the shell which then emits heat for over an hour, allowing me to provide a continuous and seamless body massage without wasting your precious massage time changing and drying more traditional stones.
Due to the lava shells® unique shape and angles they become an extension to my hands, providing therapeutic relief to where it is needed in the most effective way in the time possible… leaving you feel deeply relaxed or invigorated depending on the treatment chosen.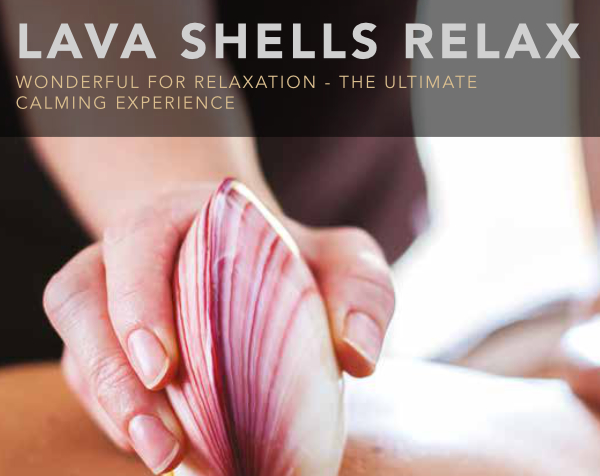 lava shells - relax
A warming full body massage that combines the warmth of the shells with slower deeper movements that creates a truly relaxing massage – good for the body and mind.
60mins – RRP: £70 OFFER: £60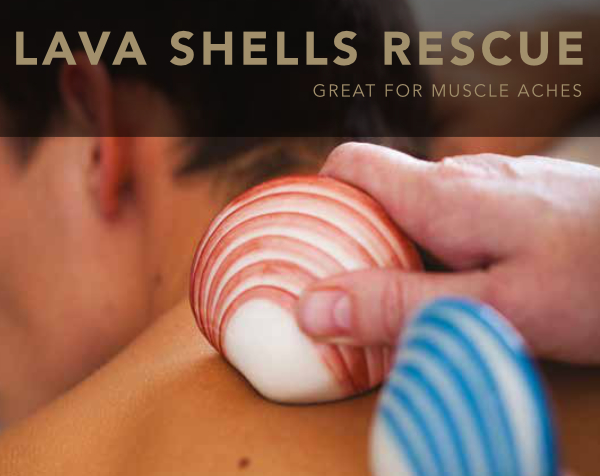 lava shells - rescue
This tailored invigorating treatment combines warm lava shells with cold glacial shells to target trigger points in muscles which are responsible for tension and referred pain.
60mins – RRP: £70 OFFER: £60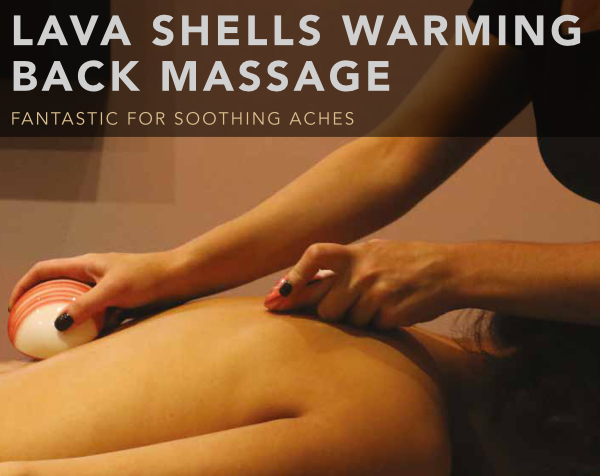 warming back massage
This warming lava shells massage uses gentle heat with soothing movements to promote a feeling of relaxation and wellbeing. A wonderfully pampering experience.
I had a wonderful relaxing massage by a very professional and passionate lady. She made me feel very comfortable and at ease. TOP SERVICE- I would recommend it to everyone.
Sharron is welcoming and provides a relaxing atmosphere. The hot stone massage was lovely and really helped the stress in my shoulders, as well as relaxing me generally.
aromatherapy massages are also available at beautylicious
What are Lava Shells®?
Lava Shells® are the world's first self-heating massage tool and are recognised as a favourite, 'must-have' treatment by leading professionals in the beauty and health industry. Due to the Lava Shells® unique shape and angles they become an extension of the hands providing heat where it is most needed.
What are Molten Lava Stones?
Molten Lava Stones are the world's first self-heating massage stone they offer an amazing warm experience relieving deep set tensions and soothing aches and pains – all without using electricity.
Unlike black basalt stones used in traditional stone massage, the smooth and shiny porcelain Molten Lava Stones retain their heat for up to 60 minutes, allowing for more hands-on time to create a completely relaxing, seamless massage experience.
How do Lava Shells® and Molten Lava Stones work?
A sachet containing a blend of food grade minerals is placed in the shell or stone and then an activator (a saline solution), is added causing an exothermic reaction. After 5 and 10 minutes they heat up and continue to generate heat for over an hour. As the shell/stone is used, it will naturally transfer heat to the body and cool; but when rested it will begin increasing in temperature, ready to be used again.
How hot do the shells/stones get?
Mild Blend is the mildest heat; this is used in the warming back massage. The temperature range when in use 31 – 46°C (88 – 115°F). This is also used in the Molten Stone Massage.
Comfort Blend Medium Heat is a medium heat is ideal for 30 minute back and shoulder treatments. It can also be used for full body massages for clients who prefer a lower temperature (especially the elderly and/or people with sensitive skin). The temperature range when in use 36 – 48°C (97-118°F).
Comfort Blend High Heat is the stronger of the two comfort blends, it heats quicker with a faster increase in temperature when rested, especially during the first 30 minutes. These are ideal for continuous use and most suitable for full body massages. The temperature range when in use 38 – 49°C (100 -120°F).
What are Lava Shells® and Molten Lava Stones made from?
Porcelain Lava Shells® are handcrafted using high quality porcelain and crushed shells. Each porcelain shell is hand painted to have the appearance of natural shells. The shell is non-porous so it does not absorb oil, skin cells or bacteria, making them a hygienic alternative to natural basalt stones.
The Molten Lava Stones is made from a blend of black lava rock, real seashells and porcelain for a durable and hygienic massage tool.
Are the Lava Shells® And Molten Lava Stones eco friendly?
Yes, all ingredients used in the sachets are 100% natural, food-grade quality and can be disposed of in a food-waste bin or compost heap as they are bio-degradable.
beautylicious
36 Station Road, Horsham, West Sussex RH13 5EY  m: +447921808968  t: +441403563347
Monday:10am – 8pm
Tuesday:10am – 8pm
Wednesday:10am – 8pm
Thursday:10am – 8pm
Friday:10am – 6pm
Saturday:10am – 6pm
Sunday: Please ring to check availability of appointments.
Monday - Saturday - After 10am You can park in a marked bay all day.
Monday - Saturday - Before 10am Visitors' permit - just pop in and pick one up.
Monday - Saturday - Between 5pm and 9am You can park on single yellow lines.
Bedford Pub Car Park - Every Day Pay and Display Car Park - they are very strict!
Horsham Station Car Park - Pay and Display.