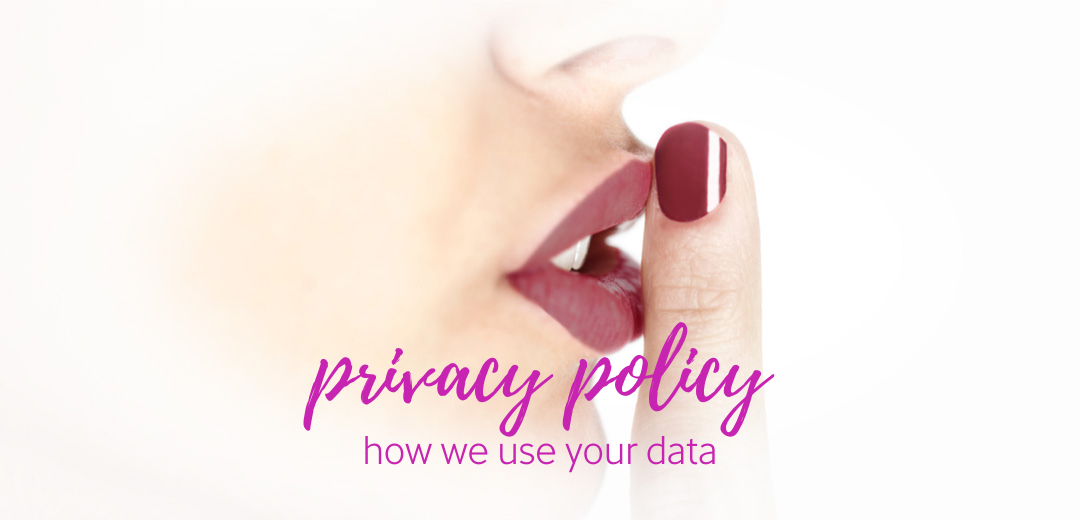 privacy policy
Your information
This is beautylicious® salon's privacy policy, we are located at 36 Station Road, Horsham, West Sussex RH13 5EY, and you can email us at central@beautylicious.co.uk. This will explain how we use any personal information we collect about you and why we collect it.
What information do we need?
We need your contact details, your: name, phone number, address, postcode and email address. We will also need information about your age and health in order for a treatment to go ahead.
Why do we need it, how will we use it and how long will we retain it?
We need all the details above in order to ensure that it is safe for us to provide the treatments you may ask for and also for insurance purposes. We will store your information for 7 years after the date of your treatment, or for 7 years after you have reached the age of 18 if you are/were under 18 when your treatment took place. Our lawful basis for processing this personal information is 'contract', this means that we have a legal reason to ask you for your data because we need it for contractual reasons. You do not have to share your personal data with us, but if you do not we cannot offer you a treatment with beautylicious®. You must fulfil your side of the contract (share your personal information) in order for us to fulfil ours (carry out treatment).
Marketing
We would also like to send you information about advance and/or exclusive offers, products and services we offer using the information you have shared with us, but you do not have to agree to this for treatment to go ahead. If you are an existing client of beautylicious®, you can update your preferences or unsubscribe when you receive a marketing communication. If you are new to beautylicious® you can set your preferences when you book online or in person.
It is also important to take photographs before and after a treatment to demonstrate its effectiveness. Many of these are used to inform other potential or existing clients of the benefits of the treatment. They are generally cropped to maintain anonymity of the person. If you do not want these to be shared, please inform us either at the time of them being taken or you can request them to be removed from any communications used by emailing central@beautylicious.co.uk.
Will we share your information?
We will not share your information with anyone outside of beautylicious®.
How do you complain if you feel we are not handling your data correctly?
Please contact us if you have any questions about this privacy policy or the information we hold on you, you can do this by email central@beautylicious.co.uk or post (36 Station Road, Horsham Rh13 5EY). If you believe we are not handling your data correctly you have a right to make a complaint, this should be sent to us using the above contact details. If you are unhappy with our response you should then contact the ICO (independent commissioner's office) by contacting them or using the following web page https://ico.org.uk/concerns/ .
This website
This web site is owned and managed by beautylicious®.  We recognise that many visitors to our site may be concerned about the information they provide and how we treat that information. This Privacy Policy addresses those concerns and describes our use of information provided on this site. We may update the Policy from time to time, so please check this page for any updates.
Our policy
At our website, we don't collect personally identifiable information from you unless you provide it to us voluntarily and knowingly. You can visit our website without telling us who you are or revealing personal information about yourself. However, if you specifically agree to provide us with personally identifiable information, such as by asking to be put on our mailing list, entering into a promotion, or requesting information from us, we may contact you from time to time.
There are some features of our site that require you to provide personal contact information in order for you to make use of those features. If you do use these features, we use the information you supply for the purpose of providing the products, product information or services you request. Because of the volume of requests we receive, however, we may have to give your name, e-mail and postal addresses to a fulfillment house or distributor of our products who partner with us. On our behalf our partners will provide you with the information or products in which you expressed an interest. Our partners have agreed to keep the personal information they receive from us confidential and secure unless you have given your consent to it being shared with other product manufacturers.
Our site sometimes includes notices of sweepstakes or other promotions we are conducting, and we may permit you to send your entry electronically in some cases. If that occurs, we will use the information you provide for the purpose of conducting the promotion (i.e., to contact you if you're a winner).
Security of information
Your personal information is never shared, sold, or otherwise disclosed outside beautylicious® except as described above and as required for any statutory or legal requirements.
We take reasonable steps to ensure the security of all information it collects, including that the information is protected from misuse and loss and from unauthorised access, modification or disclosure.
However no data transmission over the internet or information stored on servers accessible through the internet can be guaranteed to be fully secure.
Cookies
To improve your website experience we use cookies on our site. All the information can be found here
Automatic information
Examples of the information we may automatically collect and analyse include: the Internet protocol (IP) address used to connect your computer to the Internet; login; e-mail address; password; computer and connection information such as browser type and version; operating system and platform; login history; the full Uniform Resource Locators (URL) clickstream to, through and from our website (including date and time). We may also use browser data such as cookies, Flash cookies (also known as Flash Local Shared Objects), or similar data on certain parts of our website for fraud prevention and other purposes. During some visits we may use software tools such as JavaScript to measure and collect session information, including page response times, download errors, length of visits to certain pages, page interaction information (such as scrolling, clicks, and mouse-overs), and methods used to browse away from the page.
Access to your data
You have the right to request a copy of the personal information we may hold on you. You also have the right at any time to instruct us to correct or update your personal details, or to ask us to remove them from our records.
beautylicious®
36 Station Road, Horsham, West-Sussex RH13 5EY
Contact us
If you have any questions about our Privacy Policy, you can contact us on central@beautylicious.co.uk
Changes to this privacy policy
Any changes to the privacy policy will be posted on this site. Please check this site periodically for any updates.